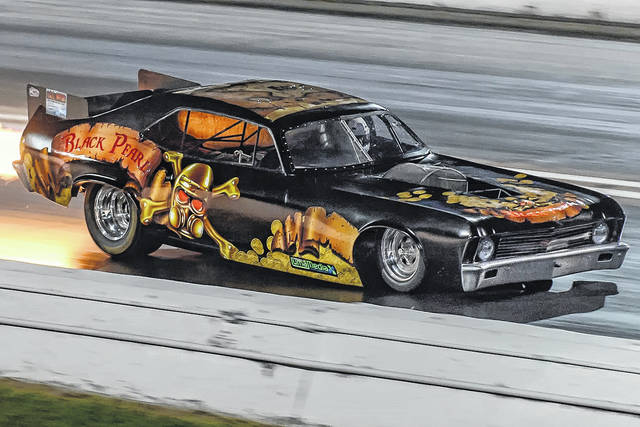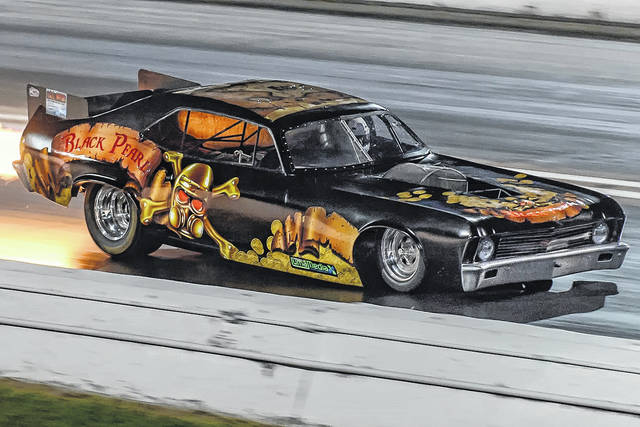 Contributed photo The Jet Funny Car will be one of the many vehicles burning rubber at the ADRL Dragstock Pro Mod Championship this weekend at Rockingham Dragway.
ROCKINGHAM — The nitro-burning nostalgia Funny Cars of John "Bodie" Smith and Jim Gifford will share the spotlight this week — with Nitro Harleys, Pro Modifieds, "The Reaper" 1968 Camaro from the hit TV series "Street Outlaws" and the one-of-a-kind "Black Pearl" jet-powered Pro Mod — as the ADRL season races to a close with Dragstock XII at Rockingham Dragway.
Smith, who is married to former NHRA Top Fuel tour regular Rhonda Hartman-Smith, is the son of veteran Paul Smith of Boynton Beach, Fla. The elder Smith, who finished second in the world in the NHRA Funny Car class in 1974, is both the owner and tuner of the 1971 Dodge Challenger driven by his son and the 1970 Dodge Demon driven by Gifford.
Paul Smith has been a successful tuner in both the Funny Car and Top Fuel categories in both the NHRA and IHRA series. He also has successfully operated a drag-racing school for aspiring Funny Car and Top Fuel drivers.
Among the Nitro Harley riders vying for titles in both Top Fuel and Pro Fuel are second-generation standout Armon Furr (Orangeburg, S.C.) — winner of last month's Jim McClure All-Harley Finals — and two-time NHRA and newly-crowned AMRA Pro Fuel champion Janette Thornley (Statesville).
As an added bonus, the race will feature the members of Supercharged Thunder and the Geezer Gassers, two groups whose vehicles were popular in the golden era of hot rodding. They include the 1948 Fiat Topolino of Gary Collins (Thronville, Ohio), the 1940 Willys truck of Charlie Long (Akron, Ohio), along with everything from early model Studebakers to Anglias to '40 Fords.
Throw in the 1953 Corvette of Scott Braskett (Galena, Ohio), the 1937 Chevy Coupe of Jamie Parker (Bowling Green, Ohio), Tim Devore's '57 Chevy Bel Air and a couple of supercharged combinations rarely seen on the track — Mark Geiger's 1976 Chevette and Tom Richey's 1985 Chevy Astro van, and one could make a case for ADRL as the American Dinosaur Racing League instead of the American Drag Racing League.
Friday's program will feature pro qualifying plus the new Doorslammer War Games, a "run-what-ya-brung" bracket race paying $5,000 to the winner and $2,000 to the runner-up.
The "Black Pearl," driven by David Douthit (Colorado Springs, Colo.), is a 1969 Camaro powered by a General Electric J85 jet engine of the type used in the Northrup T-38 and Northrup F-5 aircraft. The "Black Pearl," which traditionally closes the show at ADRL events, has become one of the series' most popular attractions.
James Goad's "Reaper" is powered by a nitrous-boosted big block Chevy engine that has made it one of the most popular and potent vehicles on the "Street Outlaws" show that originated in Oklahoma City.
The program also will crown champions in Top Dragster, Top Sportsman, two Jr. Dragster classes and two bracket classes. Admission is free. Parking is $20 per carload or $10 per motorcycle.
The ADRL point leaders entering Dragstock XII at Rockingham Dragway:
OUTLAW PRO MODIFIED
1. Wayne Smozaneck (913)
2. Tommy Mauney (563)
3. Matt Smith, King (541)
4. Jason Kalso (440)
TOP FUEL HARLEY
1. Bill "Billy Jack" Jackson (1,219)
2. Tracy Kile (880)
3. Jake Stordeur (675)
4. Tii Tharpe (566)
PRO FUEL HARLEY
1. Janette Thornley (1,081)
2. James Hoffman (677)
3. Gary Stroud (465)
4. J. Martin (339)
TOP DRAGSTER
1. Paul Daigrepont (566)
2. Matt Sackman (541)
3. Kirby McClennan (536)
4. Justin Kirk (440)
TOP SPORTSMAN
1. Boyd Beyer (947)
2. Shane Cowan (572)
3. Jim Davis (537)
4. Dave Paone (533)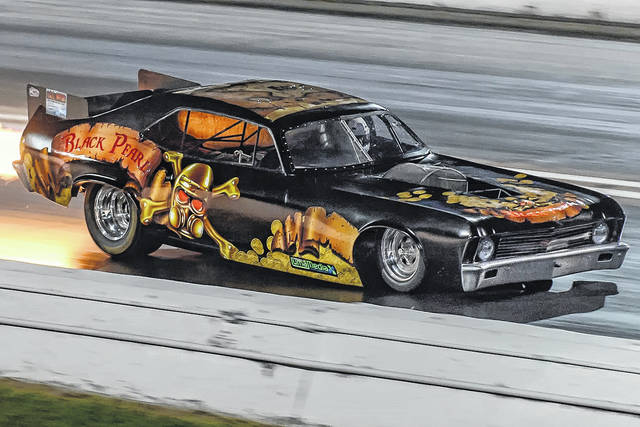 Contributed photo The Jet Funny Car will be one of the many vehicles burning rubber at the ADRL Dragstock Pro Mod Championship this weekend at Rockingham Dragway.