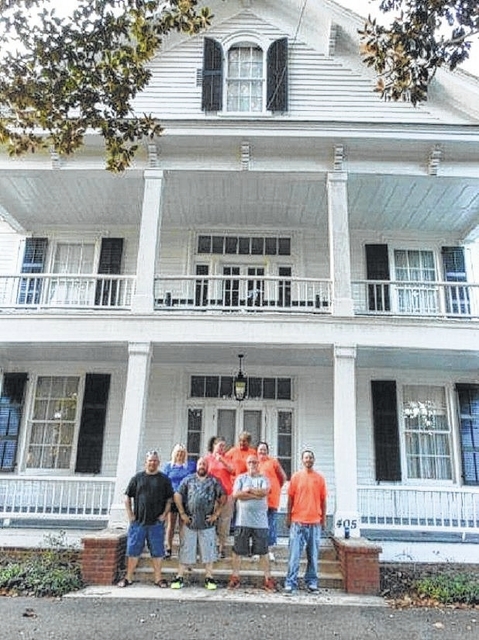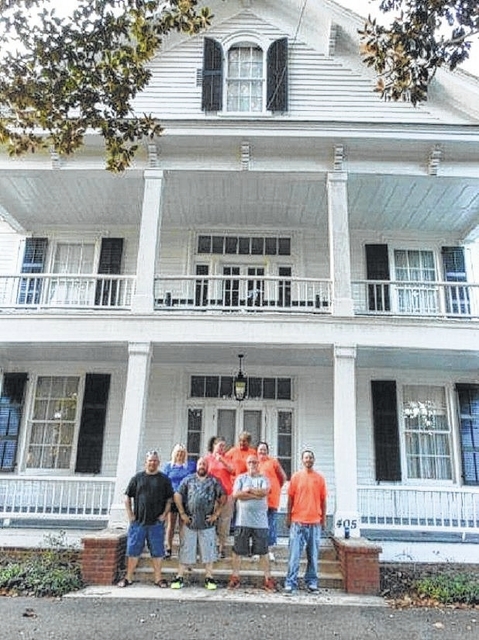 Tom MacCallum | Contributed photo Members of Ghost Commander Paranormal Investigators arrive at the Leak-Wall House July 11 for an event like many they will be staging in preparation for a Ghost Walk sponsored by the Rockingham Downtown Corporation.
ROCKINGHAM — "The Leak-Wall House is the crème de la crème when it comes to ghosts," said Linda Collins of the Ghost Commander paranormal investigation team of Richmond County.
No secret to me and my wife, May. She speaks to them every morning upon entering the house. After working there on genealogy for some seven years, they all know one another quite well, apparently.
We were mentioned to the "spirits" of the house by the team; and then through the machines the team used, the "spirits" readily acknowledged us both.
Collins asked if we would find that disconcerting coming back to the house after their visit July 11. Certainly not. We find it very comforting to know we are welcome among the "spirits."
Collins assured us the house was "a very peaceful place."
The investigation is part of a series of visits by the team to downtown Rockingham locations to identify "ghosts" for a proposed Ghost Walk by the Rockingham Downtown Corporation.
Collins said she got "goosebumps" entering an upstairs room and "smelled roses." During World War II, that guest room was rented to Emily Rothrock, who was in Rockingham working for the Red Cross. Her choice of perfume is unknown.
However, the investigation was supposed to be based on findings from ghost-hunting equipment, not personal feelings.
Except, of course, for another incident when investigator Brian Horton said he felt someone blowing on his ear in a "ghost-active" room upstairs. There were no drafts in the house that night.
Indications during the night were that a "ghost" named "Henry" (perhaps Henry Wall – 1882-1940), the last male family resident of the house, "responded" to a summons to identify himself.
So did "Jim" (perhaps Jim Reddick), a beloved African-American caretaker of the property for the family.
And, this was before we explained to the investigators the identities of these men.
It was hard to recall the name "William" mentioned by "spirits." But later May remembered perhaps William Pickett Leak (1786-1856), who in 1814 built the first house on property at what is now 405 E. Washington St., Rockingham.
When asked by an investigator if he was present with us, "William" was said to respond, "I'm here."
The William Leak house was moved in 1853 to make way for the present Leak-Wall House, now home of the Richmond County Historical Society.
Not so easy to recall was the name "Solomon" mentioned. However, there is a large wooden object in the house which is tied not to the house but is from another location connected to a Solomon family. Coincidence? It even took some time for May to make the connection.
These names came to one of the investigators on her phone through a Ghost App. But, "Jeff," "Judy," "Duncan" and "Minister" went unidentified.
In the past, people have reported glimpsing a soldier dressed in a Civil War uniform and a mysterious "Lady in White" walking the Leak-Wall House grounds.
When one "spirit" was asked if she was this lady, the response, according to Brian, was positive.
They were not aware that one former resident of the house (Fannie Wall) is usually portrayed in photographs in a flowing white summer dress.
And, two family residents in the house were soldiers in the Confederate Army.
I must confess that age has dimmed my sense of smell and hearing, useful for ghost hunting.
But after cataract surgery, my eyesight has improved considerably. I saw what I know I saw.
I did not see the Lady in White or a soldier, but rather I saw what were explained to me as "spirit orbs."
There on a four-way computer screen from thermal camcorders in four locations, I saw orbs periodically flitting across the screens.
The majority were orbs emanating from the portrait of Clay Wall (1841-1899) in the library into the room; and flitting about in the area of a curio cabinet in the front reception parlor filled with the personal items of his wife, Fannie (Mary Frances Wall – 1849-1921).
Others saw orbs on the screen from cameras in the upstairs and downstairs hallways using unseen infrared light. Also used was a new technology of full-spectrum lights which allow investigators to "see into areas of the spectrum where theories suggest ghosts reside," according to manufacturers.
Sensing "spirits" was done with a K-II EMF meter which responded in varying degrees of intensity to a presence, which "may signify activity or communications from spirits from the other side."
A Mel Meter and Spiritbox provided "sounds from beyond" which were beyond my sound-discerning capabilities. But they satisfied the fine-tuned hearing of investigators who "seek for the ultimate challenge in the world of the paranormal."
I appear to just have "normal" capabilities.
It seems the Leak-Wall House is full of "hot spots" of "ghostly" activity.
Oh yes, several investigators sitting in the library listening to "communications from beyond" witnessed a large floating green orb near the window for a second before it went "poof."
After that, investigators shone a wide pattern of green pixel stars on the wall which included the overlaying Clay Wall's portrait.
Should a "ghost" move through it, the form would appear. No ghosts were walking, or floating around, visibly to me that night.
Never mind. For those of us working at the Leak-Wall House, ghosts or no ghosts, life goes on.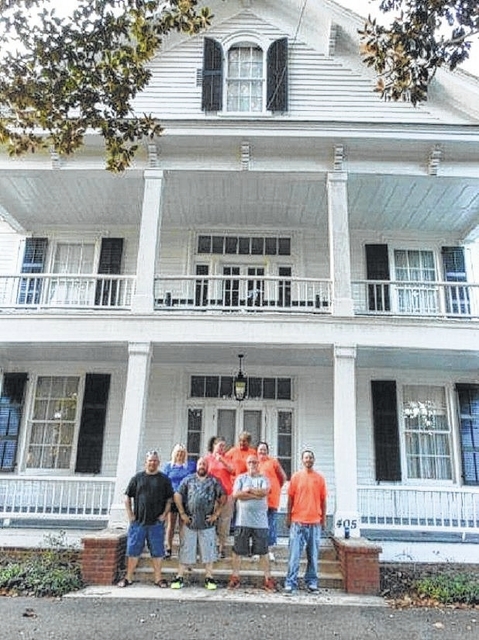 Tom MacCallum | Contributed photo Members of Ghost Commander Paranormal Investigators arrive at the Leak-Wall House July 11 for an event like many they will be staging in preparation for a Ghost Walk sponsored by the Rockingham Downtown Corporation.