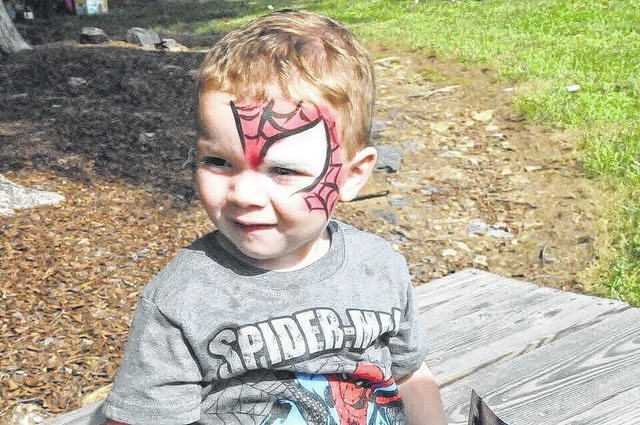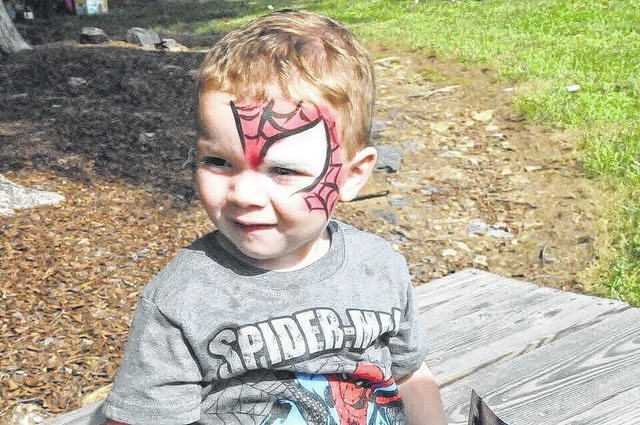 Contributed photo Kallen Heath, doing his best Spider-Man impression, will head to Virginia on July 20 for feeding therapy. His family is hosting a fundraiser for Kallen from noon to 7 p.m. Sunday at the Ellerbe Lions Club Park.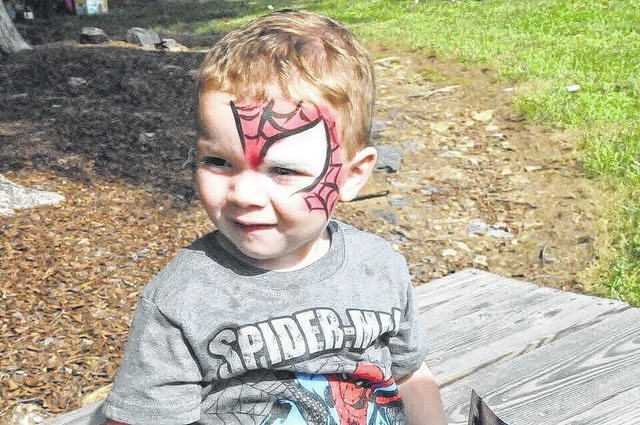 Contributed photo Kallen Heath, doing his best Spider-Man impression, will head to Virginia on July 20 for feeding therapy. His family is hosting a fundraiser for Kallen from noon to 7 p.m. Sunday at the Ellerbe Lions Club Park.
ELLERBE — Kallen Heath had a normal birth, but from the minute he was born, he never ate or drank his formula. From that moment forward, his mother Brandi knew something was wrong.
"Kallen received a G-tube (gastrostomy feeding tube) in 2012 at five months old for failure to thrive and feeding aversion," she said. "We have done multiple tests on Kallen to figure out why he refused to eat solid foods. We ran a gastric emptying scan, and it showed some slow motility in his gut which slows how fast he digests food. He also had a manomtery study done that showed some nerve damage in the small bowel. It's called dysautonomia, centralized to the GI tract."
She said it basically means his stomach is paralyzed and fills up faster than most people's. He has always limited how much he will eat at one sitting and what he will eat.
"Why doesn't he have that hunger trigger?" she asks herself. "Why doesn't he have sensation that he wants to eat? He's very selective of what he will eat. He likes meat, and he likes crunchy stuff. We're trying to get him to eat enough of it to grow."
Because of his picky selection, Heath is only up to about 200 calories a day of solid food, but is very limited on what he likes and will try. He's still on a hospital-grade formula called Neocate Splash, his mom said, because milk "didn't agree with him." She said his intake is 90 percent formula at 3 years old, and that his formula was changed seven times before he was four months old.
Heath has also been diagnosed with sensory processing disorder, ADHD, generalized anxiety disorder and a lot of unknowns. Brandi believes his eating condition is contributing to the anxiety.
"We've worked with therapy for three years. We overcame some obstacles that he's had, and he had some issues with eating when he was smaller," she said. "We can't get past this 'Why doesn't he eat any more than he does?' when food is something you shouldn't think about. He's had different issues that have hindered him that have put fear in him that are keeping him from eating."
Kallen has been accepted to the Children's Hospital of Richmond at Virginia Commonwealth University and he and his family will be heading north on July 20 for what they hope will be eight weeks. They currently have 18 days already paid for, but that amount of time won't be enough.
"Most therapies are usually only once a week. That's not enough time," said Heath. "Your insurance doesn't allow five days a week for six hours a day. Nobody has time for that. This therapy is specifically designed for people like Kallen that will work with them doing multiple therapies to overcome these issues that have become behavioral over the years.
"It will be five days a week for six to eight hours a day. They will also work with him in play therapy, and there will be parent groups so we can go and get support from other people going through the same thing. They have an 80 percent success rate."
With the Heaths' insurance being North Carolina Medicaid, however, it won't be accepted in Virginia, and they'll be forced to pay some out of pocket. Heath said they have applied for a grant to help offset some of the cost as well, but now they need the community's help.
From noon to 7 p.m. on Sunday, the Heath family will host a fundraiser for Kallen at the Ellerbe Lions Club Park, 306 Millstone Road in Ellerbe. With water slides from LMO Rentals, a bounce house provided by Paul and Linda Starbird, ice cream provided by The Berry Patch, face painting for kids, a silent auction from noon to 4 p.m. and plenty of food available, they hope to raise money to add more days and weeks to Kallen's treatment than the 18 they have paid for already.
Jacked Up Hot Rod Band will perform from 3 to 6 p.m., there will be a raffle for two Carolina Panthers tickets with the drawing at 6 p.m., and Heath said from noon to 3 p.m., some surprise raffle items will be available that require being present to win.
To donate online to Kallen Heath, visit www.GoFundMe.com and search for "Kallen Therapy."
Reach reporter Matt Harrelson at 910-817-2674, listen to him at 12:10 p.m. on Mondays, Wednesdays and Fridays on WAYN 900 AM and follow him on Twitter @mattyharrelson.