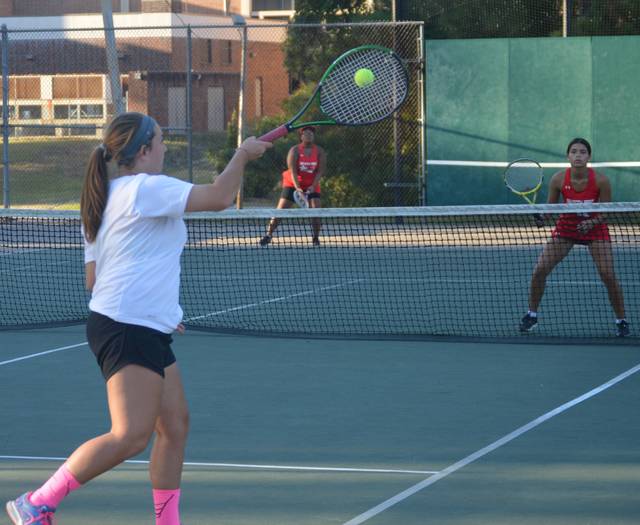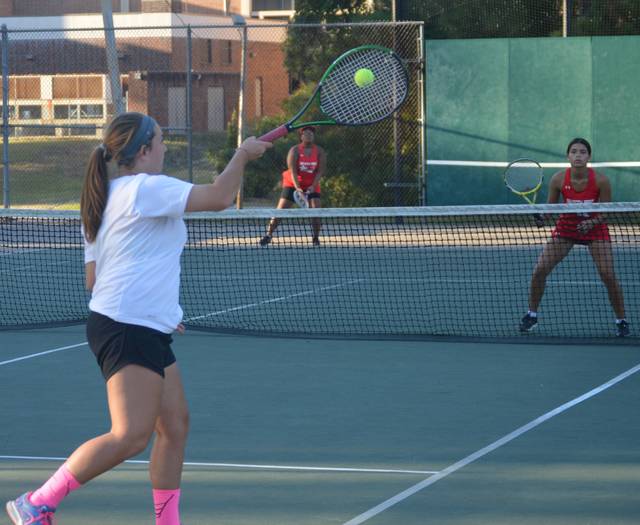 ROCKINGHAM — The Richmond girls tennis team celebrated its seniors and earned another shutout victory over Seventy-First on Tuesday afternoon.
Pictures and posters of the team's seniors (Destiny Buie, Elizabeth Burns, Kathleen Pittman and Meredith Stogner) covered parts of the gate surrounding the tennis courts as the Lady Raiders blanked the Lady Falcons 9-0 for the second time this season.
"This group is probably the winningest group of seniors in the last eight or 10 years, that I know of," head coach Michael Way said. "It's a good thing that we can be competitive and take care of these kinds of matches when they come around."
Both Buie and Stogner achieved golden sets (6-0, 6-0) in the No. 1 and No. 5 singles, respectively, on the big day, while Burns came close in the No. 6 singles (6-0, 6-1) and Pittman dominated the No. 3 singles (6-0, 6-2).
Pittman and Stogner teamed up to win the No. 1 doubles (8-0) and Burns partnered with junior Taylor Parrish to cruise in the No. 2 doubles (8-1).
"I just love playing with these girls. I'm definitely going to miss how close we are because we're such a tight-knit group," Pittman said. "Just being on the court is definitely going to be something I miss."
Jayana Nicholson and Greyson Way, both juniors, commanded their respective singles. Nicholson acheived a golden set of her own with a victory over Seventy-First's Tykariah Reyes-Harper. Way defeated Zarina Wren by a score of 6-1, 6-0.
The No. 3 doubles were won by juniors Emily Parsons and Chloe Wiggins.
Richmond (9-4, 9-3 SAC) hosts conference rival Scotland on Thursday in its regular-season finale.
Reach sports editor Leon Hargrove Jr. at 910-817-2673 and follow the sports section on Twitter @RCDailySports.