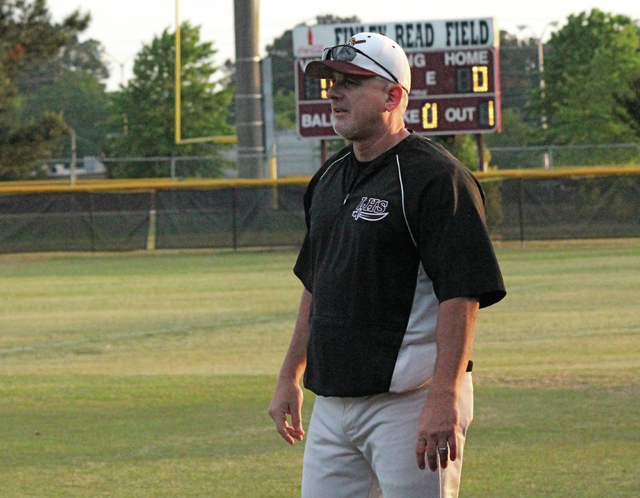 Scott Schlaufman | Civitas Media After 25 years as the school's head baseball coach, Lumberton's Paul Hodges announced on Thursday that he's stepping down from the position. He'll remain at the school another year as a teacher and football assistant.
LUMBERTON — For the past quarter-century, Paul Hodges has been the baseball coach at Lumberton High School, transforming the Pirates into a top-tier program.
That journey officially came to an end on Thursday, when Hodges announced he was resigning as the head coach.
"It's tough, it's sad, but there are so many memories," said Hodges, who joined the program in 1991. " I did a lot of soul-searching, a lot of prayers, and I just finally made my mind up before spring break that this was it. It was actually kind of a relief off my shoulders."
Hodges finishes his career as the Pirates' skipper with 319 wins, making him one of the winningest coaches in Robeson County baseball history.
While his road ends as the baseball coach at Lumberton, Hodges said he still plans on teaching and assisting with the football team for another year. After that, he plans on moving to Florida to continue his career and spend more time with his wife, Kerry.
"It's just so hard to have two households, with my wife living in Florida and us doing the commute thing," Hodges said. "Plus, to be honest, there's really not a whole lot of incentive for us older teachers to stay in North Carolina…the timing just felt right."
During his tenure, Hodges led the Pirates to nine conference championships and seven Robeson County Slugfest titles. In 2005, the Pirates were ranked as high as No. 1 in the state and 45th nationally, winning a school-record 27 wins and ending the season with a third place finish in the NCHSAA 4-A state playoffs.
But winning didn't come easy for Hodges. During his first eight seasons, the Pirates finished with a winning record only three times before breaking through in 1999 with his first conference championship.
Mackie Register, Lumberton's athletics director and Hodges' former assistant, has been there every step of the way.
"We've been together 25 years and I hate to see him go but at the same time I'm happy for him," Register said. "Lumberton baseball is what it is because of Paul. All the hard work and hours he's put in has kept us competitive. His accomplishments speak for themselves and it won't be the same without him."
As the county athletics director, Jason Suggs also praised Hodges' for his success, most notably the stability he's brought to Robeson County.
"On a professional level you don't see that anymore. Him and (Fairmont boys basketball coach) Michael Baker are a dying breed. It's rare to see someone stay in a position for that long," Suggs said. "(Hodges) has been a staple for Robeson County athletics."
But Hodges is quick to deflect the praise to his assistants and while he's reluctant to say who his replacement could be, there's no secret that Lumberton's next head coach could come from within the current program.
"We've always brought kids back that played for the program and understand what we're doing here," Hodges said. "That's a huge reason for the success. The program will be well kept, no doubt in my mind."
In Hodges' final season, the Pirates were 15-7, winning their first conference championship since 2008 before ending the season with a 3-1 loss to New Bern in the first round of the playoffs. Hodges also earned SEC Coach of the Year honors.
While he was happy to send his coach out on top, junior Evan Odum said it's still hard to imagine a Lumberton baseball game without Hodges in the dugout.
"It's really heartbreaking," said Odum, the SEC Player of the Year. "It won't feel the same walking into the locker room and not saying, 'What's up Coach Hodge?'"
Reach The Robesonian reporter Rodd Baxley at 910-416-5182 and follow him on Twitter @RoddBaxley.