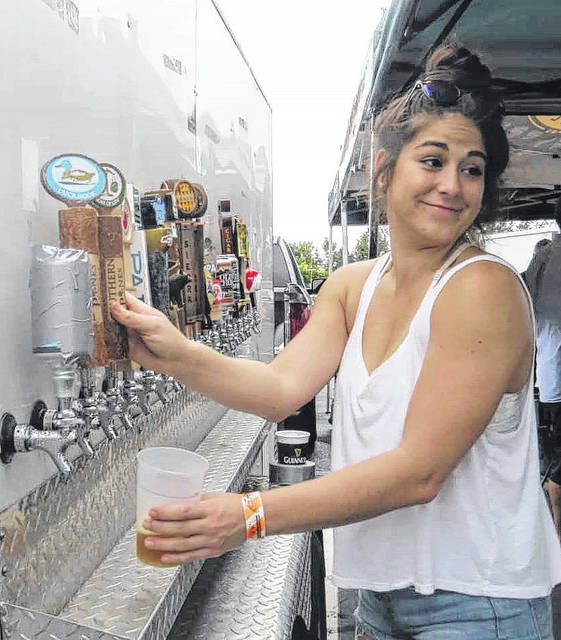 Gavin Stone | Daily Journal Bobby Pearce, a contractor from Hamlet, throws back an imaginary beer in the center of a dance circle at Hoptoberfest on Saturday.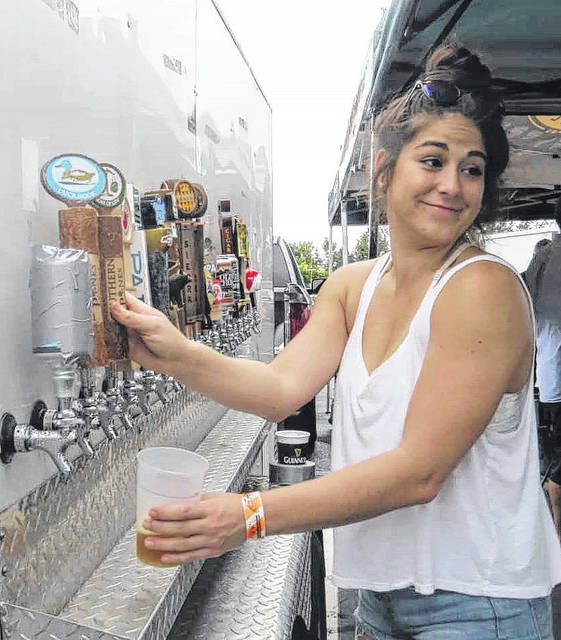 Gavin Stone | Daily Journal Alyssa Cambeiro, a volunteer with Healy Wholesale, pours a beer at Hoptoberfest on Saturday.
ROCKINGHAM — It was a cluckin' good time at the third annual Hoptoberfest on Saturday with more than 700 people in attendance — the event's largest turnout in its short history.
The event drew people of all ages (over 21, that is) to experience a rarity in the area: craft beer. To go with the beer, attendees had a selection of 11 homemade recipes as part of a wing competition between using 14,000 chicken wings provided by Purdue.
Attendance at Hoptoberfest has increased each year, with the first year drawing about 350 people and last year selling out at 500 people. This year, the event sold out six weeks ahead, according to Emily Tucker, president of the Richmond County Chamber of Commerce.
Also showing a steady incline is the number of breweries in attendance, growing from three the first year to 10 this year. There was also a distributor, Healy Wholesale, that brought a truck with more than a dozen breweries' beers on tap, plus two wineries.
The craft beer industry has exploded across the state in recent years thanks to a law signed by then-Gov. Mike Easley in 2005, known as the Pop the Cap bill, which raised North Carolina's 6 percent alcohol by volume cap on beer sold and brewed in the state to 15 percent. Since then, and after a few more regulations on small brewers were rolled back, more than 230 craft breweries have popped up across the state.
There are breweries in nearby Hoke, Moore and Cumberland Counties, but Richmond County remains an untapped market for craft beers.
Tucker said the idea came from a committee made up of millennials and those of older generations to create a "signature event" that would "contribute to the quality of life" in the county, and they all agreed on a beer tasting.
"We don't have any breweries…that was something that we wanted to try to bring to Richmond County," Tucker said. "Then we got to thinking if we do a beer and wine tasting, what else do we have? And we literally said 'We have chicken, we have a lot of chicken: Purdue.'"
To bring the brewers to Hoptoberfest, the organizers pay them for their beers, rather than brewers paying to be featured, as would be the case in a larger market, according to Neil Robinette, secretary for the Richmond County Chamber of Commerce and CEO of Tri City, Inc.
"We're really appreciative of them making the time and effort to come down here and be with us," Robinette said. "I think they're seeing some positives (in the market for craft beer in Richmond County), they're in Food Lion and different places — obviously they don't have the restaurants that other communities have where they can be on tap but all the ones that are here have been repeats.
"It's a challenge but (paying them to feature their beers) is how we overcome it," Robinette said.
The event sparked the interest of John Butler, who considers himself an amateur brewer and said this was his second year coming to Hoptoberfest. Butler's wife, Susan, bought him a beer brewing kit for Christmas two years ago and he's been sharing his home-brewed recipes with friends, like Delta Terry, ever since.
"Most of these beers are excellent," Butler said. "He gets ideas!" his wife added. He makes one specifically for her that she says reminds her of Blue Moon.
Butler said his favorite he tried on Saturday was a black India Pale Ale (IPA) from YesterYears Brewery and Taproom.
"It's got the subtle hints of chocolate but it's got the IPA bitterness to it," Butler said. Asked how he's doing with his own beers, he said he's been lucky and hasn't made a truly bad batch yet — "It's all good."
"I've made some that are a little — you drink them and you go, 'Hmm,'" Butler said. Terry calls himself Butler's "official sampler" and he enjoys being the first one to try the new recipes, for better or worse.
Several attendees said they hoped to see more beer varieties in Richmond County. Garrett Boyd grew up in Hamlet, now lives in Rockingham, and was with Ferrell Townsend before going to their high school reunion Saturday night. Boyd said he travels to Raleigh and Cary often to quench his deisre for craft beers. "It would be awesome," he said, to not have to travel so far to get craft beer.
"There's enough people to push (for more craft beer in the county)," Boyd said. "If you asked me 10 years or five years ago I would tell you no, but there's enough kids that leave to go to college that return to work now, where before it was like if you're out, you dip out of Richmond County, and that's just the way it was."
Chairman of the Richmond County Board of Commissioners Ken Robinette's team Stupidly Good won second place in the wing competition. First place went to Mike Hall's Screamin' Memes (they pronounced it "me-me's", and reassured the Daily Journal that this was the intended pronunciation, despite the consensus from the younger generation that it's pronounced "meems").
"Everybody's had a great time here, doing something for the community…good competition, we take it seriously but it's all good," Robinette said.
Robinette said his go-to beer is still a Michelob Ultra, but he's warming to the new craft-beer trend.
As for the future of the event, Tucker said the strong partnership with Tri-City ensures that the Hoptoberfest will stay in Richmond Plaza for the foreseeable future.
"I assume we will eventually take over the shopping center with this event," Tucker said.
Reach Gavin Stone at 910-817-2674.
Gavin Stone | Daily Journal Bobby Pearce, a contractor from Hamlet, throws back an imaginary beer in the center of a dance circle at Hoptoberfest on Saturday.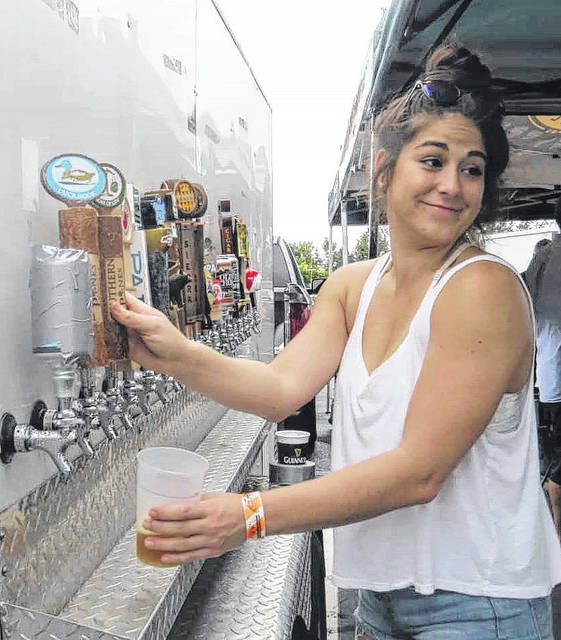 Gavin Stone | Daily Journal Alyssa Cambeiro, a volunteer with Healy Wholesale, pours a beer at Hoptoberfest on Saturday.