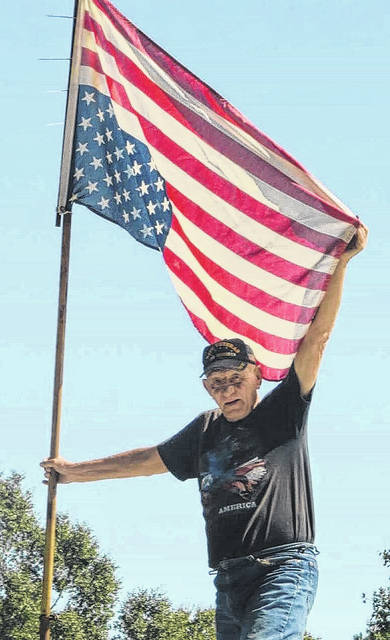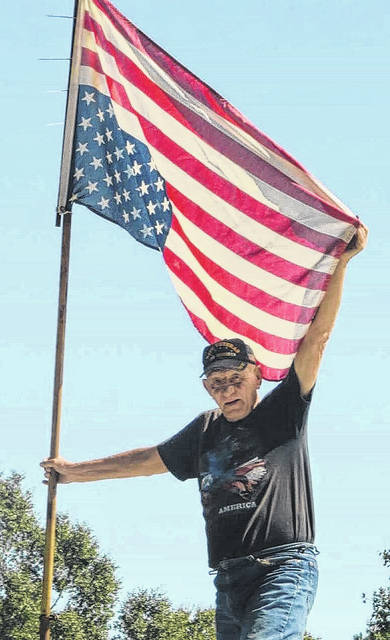 Gavin Stone | Daily Journal Marshall Berry stands on top of his home, unfurling a U.S. flag that he is currently flying upside down because he says the nation is in distress.
Marshall Berry has issued a distress call for the country.
Turn onto a dirt road off of Old Cheraw Highway and you will come upon a fenced-in yard packed with very loud-but-harmless dogs (and some idling cats) milling about a mobile home with a peculiar sight perched prominently on top of it: an upside down American flag.
Out of a tarp-covered shed sitting in the front yard comes Berry, wearing a Vietnam veteran hat and a shirt emblazoned with an eagle that has stars and stripes in place of feathers. He walks with a bit of a limp from a knee that's been taken apart and put back together so many times it's in danger of costing him the whole leg. He greets with an easy grin.
A retired Navy veteran and Bronze Star recipient who served three tours in Vietnam, Berry says that he's never been more concerned for the country he fought for when he was 17 and into his 20s.
"In the military when you fly a flag upside down it's a distress signal," Berry said. "Right now our country and our flag is in distress, from everywhere and all over."
Berry first turned his flag upside down on Sunday following the recent flare of protests from NFL players who have taken to kneeling during the national anthem. Berry sees this as a direct offense to the country he served as a young seaman, but he also says he agrees with the "spirit" of the protest when it started, which was one of demanding more accountability in the police force.
"They're not saying they're fighting against the flag…they say they're fighting against police brutality and (for) equality, and I can understand that," Berry said. "But the football game is not the place to do it."
Growing up in segregation-era Texas in the 1950s and '60s, Berry admits he was a racist in his youth. He said he wouldn't have even been allowed to say "hello" to a black person back then, but his views changed when he went off to war.
On a patrol of a river in Vietnam, his boat took a direct hit from a mortar shell, launching him and his crew mates, some of whom were black, into the water.
Still alive but wounded, Berry was floundering in the water until he felt a tug from his collar. Turning to look, one his black crew mates had pulled him ashore.
Serving under that flag, which he points out is the same one that won the Civil War, taught him to look past the color of someone's skin. To see it "disrespected" by black athletes, and treated as a symbol of oppression broadly, hurts him.
This isn't the first time Berry has tried to make his voice heard.
Since taking steps to overcome his social anxieties stemming from post-traumatic stress disorder — which wasn't diagnosed until 2008 after decades of dealing with panic attacks, night terrors, sudden flashes of anger and a drinking problem — Berry has worked hard to educate himself about the world he lives in.
He reads the news incessantly from his shed, where he says he spends 90 percent of his time to avoid the stress of going out in public. He once reached out to city council members at a benefit dinner to talk about local issues, but they didn't engage him. He frequently talks to friends about issues of race and religion, where he can still find ways to break new ground in understanding even in their advanced age.
But trying to talk across racial lines proves difficult, with people often shutting down at the mention of race, the cause being either fear of discussing it or exhaustion from being bombarded with it.
He offered that perhaps the football players feel the same way and that kneeling during the anthem is their only recourse.
"Nobody can seem to say anything good about the other," Berry said. "(Turning his flag upside down) is all I have."
He grew so disenchanted with politics in the last election that he (literally) left it up to a coin toss, having little good to say about either candidate.
Berry said he doesn't want to keep the flag turned upside down forever, but as of now it will stay like it is. Asked what would make him turn it right-side up, Berry says he wants essentially the same thing the protestors want: for police officers to show more respect to the rights of citizens, regardless of race.
"I can't keep it like that indefinitely, there's got to be a point where it's going to change somewhere," Berry said. "What I'd like to see is something to happen with the police departments…too often they're shooting first and asking questions later and that has to change."
Reach Gavin Stone at 910-817-2674.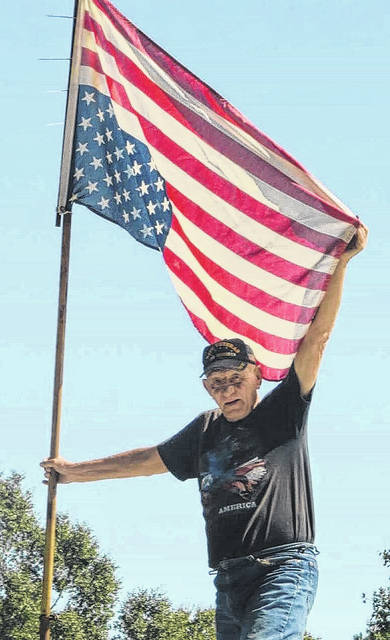 Gavin Stone | Daily Journal Marshall Berry stands on top of his home, unfurling a U.S. flag that he is currently flying upside down because he says the nation is in distress.