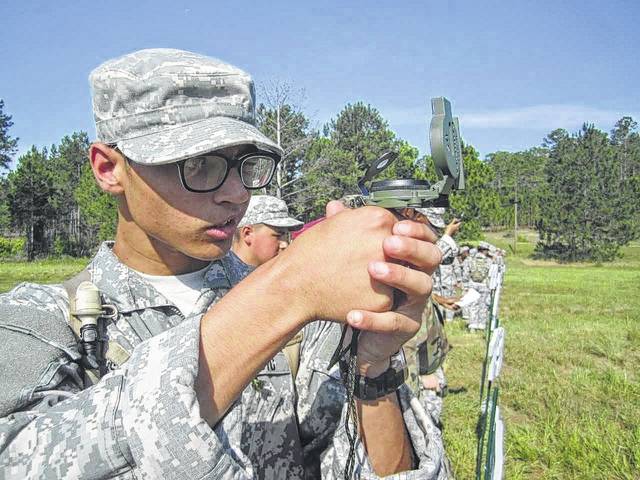 Courtesy photo Cadet Jamie Hill determines an azimuth during a land navigation course at Fort Jackson.
Courtesy photo Cadets work together to overcome an obstacle.
FORT JACKSON, S.C. — Not even a week after students got out of school for summer vacation, 18 of Richmond Senior High School's JROTC cadets and their instructors went to JROTC Cadet Leadership Challenge at Fort Jackson, South Carolina.
Also known as "summer camp," JCLC is a camp funded by the U.S. Army to train JROTC cadets to become better leaders through training in a Basic Training environment. Army instructors and cadets from 60 schools around the Carolinas travel to Fort Jackson, assemble, and begin training in a very efficient manner.
Richmond Senior High School was in Alpha Company along with 17 other schools' cadets. The company was led by Richmond's instructors — retired Lt. Col. Jon Ring as the company commander and 1st Sgt. Aaron Light as the company first sergeant. Sgt. 1st Class Victoria James provided supervision over one of the platoons as a TAC (Teach, Advise, and Coach) NCO while also providing an example to all of the cadets in professional leadership. Three of the four female chaperones with Alpha Company were also Richmond Raiders — Sommer Martin, Rollanda Malloy, and Cherise Washington ensured that the 90 female cadets in Alpha Company were taken care of throughout the camp.
The cadets were housed in U.S. Army barracks with other cadets from all over the region. Cadets took part in many different training exercises throughout the week that challenged them in many ways. Some of these tasks included rappelling, land navigation, confidence courses and many other teamwork and leadership development courses. Espirit de Corps was cemented as confidence grew throughout the week and Alpha Company was consistently the most highly motivated of the four companies — sounding off with "Airborne!" wherever they went. A is for Airborne, after all.
The cadets' day started at 5 a.m. when they were woken up from their bunks to do quick personal hygiene, and to get dressed. Then all of the cadets would be gathered to be briefed by their fellow cadet leaders on the day's activities. They all march to the dining facility to eat the first meal of the day and then go into their first training activity of the day.
Although the cadets had a myriad of difficult tasks to overcome, the No. 1 concern for the instructors charged with supervising the camp was safety. With the camp being at the beginning of summer — and in the center of South Carolina — temperatures rose, causing cadets, instructors and chaperones alike to take extra precautions to prevent anyone from getting injured in the blazing heat.
The camp would not be possible without on-site medical supervision and assistance. This year's camp was blessed with two nurses — one of them, Richmond Senior's own Eva Ingram. These two ladies were able to very quickly set up a nurse's station and begin taking care of more than 700 cadets within hours of arrival. The hours were long throughout the week for the nurses, but they remained motivated and were an inspiration to all.
The cadets just happened to be at camp the same week that the U.S. Army's birthday occurred. This day was, for many, the best day of camp. The cadets took part in a high ropes course, as well as rappelling off the famous 40-foot tower, called "Victory Tower." The cadre and cadets were also paid a visit by Richmond County Schools' Superintendent Dr. Cindy Goodman, who was accompanied by school board member Jerry Ethridge and Executive Director of Human Resources Julian Carter. After the high ropes course, the cadets and their visitors were treated to a lunch at the dining facility celebrating the Army's 242nd Birthday.
As a result of all of the challenges, many of the cadets got to overcome fears — like heights and water — while at the same time making friends from other schools.
Cadet Kevin Campos summed up his experience by saying, "My favorite part about camp was learning new things about being a leader. Marching and calling cadence and learning new steps help me to be the best leader that I can be."
Grantham Freeman is a cadet in Richmond Senior High School's Raider Battalion.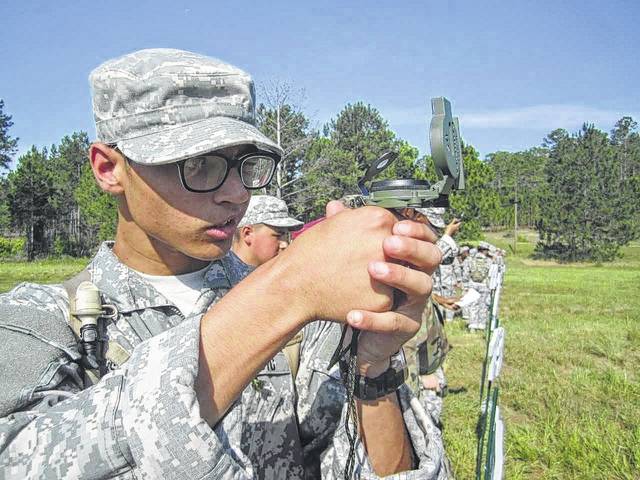 Courtesy photo Cadet Jamie Hill determines an azimuth during a land navigation course at Fort Jackson.
Courtesy photo Cadets work together to overcome an obstacle.