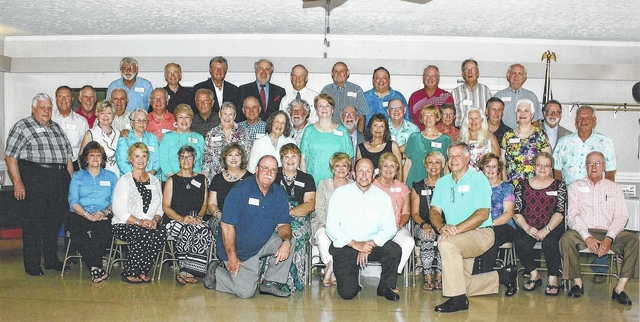 Contributed photo Pictured left to right, kneeling are John Raby, Dan Vickers and Bo Frye. First row, left to right, Linda Quick Klesener, Jean McGee Lewis, Susan Atkinson Hartgrove, Diane Taylor Brigman, Juanita McDuffie Owensby, Frances Stone Ferreira, Rita Vann Bland, Judy Bankhead Helms, Beth Preslar McDonald, Pat Wooten and Ronnie Gulledge. Second row, left to right, Robert Keeter, Mary Anna Newton, Grace Lewis Martin, Linda Dawson Norwood, Donna White Holt, Sally James, Emily Barbour Simmons, Cathy Smith Kirkley, Dorothy Adeimy Taylor, Sandra Bolch Ballard, Cynthia Cook Cabell and Ralph Yates. Third row, left to right, Ray Martin, Bob McDougald, Bob Nowell, Keith Nash, John Boney, Jon Mann, Grady Ormsby, Colie Millson, Ersell Liles, Rodney Monroe, Ben Sutton and Glenn Taylor. Fourth row, left to right, Lenny Wheeler, Tony McCullough, Hobby Cato, Woody Gunter, Crowell Poplin, James Hudson, Glenn London Jr., Lowery Ballard, Don Gibson and Harold Pruitt. Not pictured are Charles Muse and Mike Beaver.
HAMLET — The Hamlet High School class of 1965 held its 50 year reunion June 19-20.
Classmates gathered at Hoot 'n Holler near Hamlet on Friday night, June 19, for an informal time of fun, renewing friendships and conversation. On Saturday night, June 20, a dinner was held at the American Legion on Boyd Lake Road in Hamlet. There were about 90 people in attendance at the reunion.
Classmates enjoyed a repeating slideshow of pictures scanned from the senior annual, class reunion pictures and other photos relating to Hamlet and the class. Enlargements of clubs and sports pages from the senior annual were displayed around the room as well as enlargements of each class reunion picture.
There was a table for memorabilia and a "Memorial Table" with pictures of the 16 deceased classmates. The centerpiece on each table highlighted pages of individual senior pictures scanned from the annual and wrapped around a tall glass cylinder candle holder.